The Centre for Policy Dialogue (CPD) has organised a Dialogue on  Addressing Rohingya Crisis: Options for Bangladesh in Dhaka on 11 November 2017. The dialogue was organised in a move to provide a platform to have an open and in-depth exchange of views on the emergent situation.
Read more news
Published in The Daily Star on Sunday, 12 November 2017
Food, Shelter to Rohingyas: $882m needed for 10 months
 Estimates CPD, warns the govt int'l support may not continue for long
Staff Correspondent
Centre for Policy Dialogue yesterday said an estimated $882 million or Tk 7,126 crore would be needed to provide food, shelter and other support to the Rohingyas until June next year.
It also said the expenditure for each Rohingya over the period would be Tk 59,388.
The independent think tank came up with the figures based on the estimate of the UN, which said $434 million would be needed for the Rohingyas in Bangladesh between September and February next year.
The humanitarian support currently provided by the international organisations would not continue for a long period. Hence, the burden would be on the government of Bangladesh, CPD Executive Director Fahmida Khatun said while presenting a paper on the implications of the Rohingya crisis for Bangladesh.
"Given the present budgetary framework for fiscal 2017-18, there is not much room for additional public spending," she said.
Fahmida presented the paper at a dialogue titled "Addressing Rohingya Crisis: Options for Bangladesh" at Khazana Gardenia Banquet Hall in the capital yesterday. The programme was chaired by CPD Chairman Prof Rehman Sobhan and attended by diplomats, former ambassadors, international relations analysts and officials from UN agencies and other international organisations.
The CPD termed the Rohingya crisis a multi-dimensional problem for Bangladesh and suggested that the government continue "energetic diplomacy" particularly with the regional partners to solve it.
Discussants at the dialogue recommended taking both soft and hard approaches bilaterally and multilaterally so that the Myanmar authorities take back its nationals soon.
Some of them said the issue is likely to linger and affect Bangladesh in various ways.
They also warned about the risk of security, terrorism, spread of diseases, trafficking of women and children as well as illegal drug trade in the south-eastern region if the Rohingyas stayed there for a long period.
Foreign Secretary Md Shahidul Haque said the government wants to see a peaceful solution to the crisis.
He said Myanmar is a close neighbour and Bangladesh has to have good relations with it. The government is currently focusing on signing a bilateral arrangement with the country for the return of the Rohingyas, he added.
Haque said the government was not seeking humanitarian support from the international communities. "Rather, the government asks for political support to solve the Rohingya issue.
"This is a conflict between Myanmar and its own nationals. Bangladesh in no way created this environment. Bangladesh tries to become a responsible and responsive state. A state which responds to humanitarian crisis," he said.
Fleeing persecution in Myanmar, over 613,000 Rohingyas have entered Bangladesh since August 25.
The CPD said over a million Rohingyas now are staying in the south-eastern region of the country, creating economic, social and environmental challenges for Bangladesh.
Debapriya Bhattacharya, distinguished fellow at the think tank, said the total number of refugees across the world is 6.5 crore and Bangladesh would be the fourth largest host country for refugees.
"We have shown generosity and it does not depend on resources, it depends on the heart," he said.
William Moeller, political officer at the US Embassy in Dhaka, said solution lies with Myanmar and Bangladesh is just an innocent bystander to this crisis.
Ragnar Gudmundsson, country representative at International Monetary Fund, said a contingency plan would be very important for Bangladesh.
Anup Kumar Chakma, former Bangladesh ambassador to Myanmar, said Myanmar's relation with countries like China and the US has an impact on the Rohingya issue. He said China, US, India, and Thailand have interests and investments in Myanmar.
Imtiaz Ahmed, professor of international relations at University of Dhaka, recommended "becoming proactive" and sending high-level delegation to countries, particularly to China and India.
Referring to the ongoing atrocities against Rohingyas, Border Guard Bangladesh Director General Maj Gen Abul Hossain said the matter should be taken to the International Court of Justice.
Former ambassador Farooq Sobhan claimed that there was an attempt within Myanmar to permanently solve the Rohingya issue. He said One Belt One Road initiative of China would be seriously jeopardised if the issue was not resolved.
"There is also a potential threat of terrorism due to the crisis," he said.
Prof Sukamol Barua from Buddhist Federation said the Rohingya crisis is not a religious issue. He said local Buddhists were very cautious over the matter.
Published in Dhaka Tribune on Sunday, 12 November 2017
CPD: Tk7,126 crore needed to host the Rohingyas till June 2018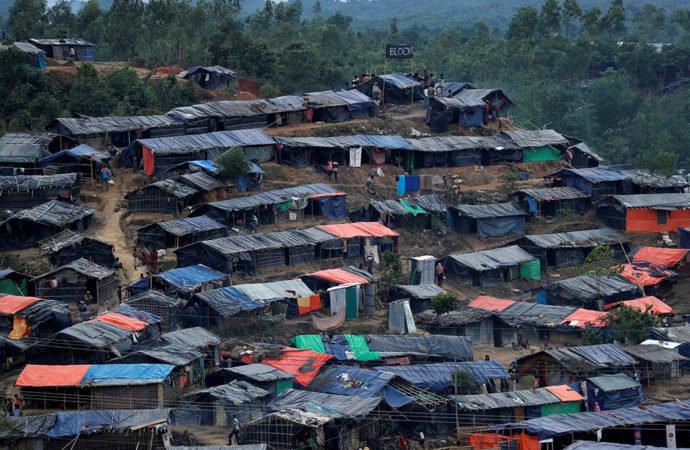 Nawaz Farhin
The think tank has estimated the 10-month fund requirement based on an estimation of the UNHCR for six months
A total of $882 million or about Tk7,126 crore will be required as funding until June 2018 for the Rohingyas who have taken refuge in Bangladesh after facing brutal military persecution in Myanmar, says the Centre for Policy Dialogue (CPD).
The independent think tank on Saturday disclosed at a dialogue the estimated 10-month fund requirement based on an estimation of the Office of the United Nations High Commissioner for Refugees (UNHCR) for six months.
With a latest additional requirement of $83.7 million, UNHCR's total need for the Rohingyas until February next year now stands at $517.78 million, said CPD quoting UN website.
The United Nations Office for the Coordination of Humanitarian Affairs (UNOCHA) earlier had estimated $434 million to be the total funding requirement for 1.2 million Rohingyas until February.
Based on these numbers, CPD added, expenditure required per Rohingya for September, 2017-June, 2018 period would be $795 or Tk5,939.
The latest requirement estimated by CPD is equivalent to 1.8% of Bangladesh's national budget for FY2017-18, 0.3% of the GDP and 2.5% of the total revenue of the country.
The estimations were made in a keynote presented by CPD Executive Director Fahmida Khatun at the dialogue, titled "Addressing Rohingya Crisis: Options for Bangladesh," organised at a Dhaka hotel on Saturday.
Fahmida said the Rohingya crisis has hit the locals in Cox's Bazar as a social disaster, affecting population growth, and causing health and sanitation problems.
"The total forest area in Cox's Bazar is nearly three million acres and around 3,500 acres of it has already been lost due to the Rohingya influx," she said.
Since August 25, following a military crackdown in Myanmar's Rakhine state, about 625,000 Rohingyas have entered Bangladesh, according to the Refugee Relief and Repatriation Commission.
Draft proposal
At Saturday's dialogue, Foreign Secretary M Shahidul Haque said the government has drafted a proposal for an agreement with Myanmar to repatriate the Rohingyas.
"We are taking all kind of preparations to solve the crisis and peaceful efforts are still underway. The foreign minister will meet Myanmar officials on November 23 in this regard."
He also emphasised political support received from the international community, rather than the economic ones, to solve the crisis. "Myanmar is our neighbour and we need to resolve this peacefully, maintaining our friendship.
CPD Chairman Prof Rehman Sobhan stressed on organising an international conference to find out ways on how to solve the Rohingya crisis. "The Rohingyas need to be sent back to Myanmar voluntarily, not forcefully."
He said the crisis had hit Bangladesh's economy, society and environment most.
Published in The Financial Express on Sunday, 12 November 2017
Rohingya upkeep costs Bangladesh Tk 71.26b for 10 months: CPD
FE Report
Foreign Secretary Shahidul Haque speaks at the dialogue on 'Addressing Rohingya Crisis: Options for Bangladesh' arranged by the Centre for Policy Dialogue (CPD) in Dhaka on Saturday. — FE photo
The government will require Tk 71.26 billion for 10 months from September this fiscal year, 2017-18, to foot an extra bill for Rohingya refugee upkeep.
A leading policy think-tank came up Saturday with the unforeseen budget for the minority people tossed out of their homeland in Myanmar through violent action likened by the international community to 'ethnic cleansing'.
However, foreign secretary Md Shahidul Haque said a new agreement will be signed very soon with Myanmar for safe return of the Rohingyas.
"The draft of the pact has been prepared. It will be signed soon," he said while speaking as chief guest at the function where CPD laid out the budgetary implications of the crisis.
According to the estimation, the government needs to spend Tk 198 per day for each of the Rohingyas who numbered 10,08,431 until October 25, including old and new arrivals.
Revealing the estimation, the Center for Policy Dialogue (CPD) said the government will be requiring Tk 13.56 billion during second six months from March 2018 and Tk 20 billion during third six months beginning September 2018 if they need to stay for a longer time.
The CPD organised the dialogue on 'Addressing Rohingya Crisis: Options for Bangladesh' in city hotel where a study paper was presented under the title 'Implications of the Rohingya Crisis for Bangladesh'.
The foreign secretary said Bangladesh need political support from international community though voluntary resources are welcome for the banished Rohingya community.
"We have ensured all sorts of preparation to enforce initiatives for solving Rohingya problem. Moreover, efforts are on to solve the problem in peaceful manner," he told the meet.
"Foreign Minister AH Mahmood Ali will hold meeting with the Myanmar authority in Naypyidaw on November 23, during his Myanmar visit," the FS said.
He said this time there would be some clauses on humanitarian grounds for return of the Rohingya with dignity and safety.
"We should keep in mind that Myanmar is our neighbour, in spite of all the inconsistencies. Therefore, the Rohingya problem should be handled maintaining good ties with them," Mr Haque said.
The top foreign ministry official further said if both parties couldn't reach an agreement, Bangladesh has other options.
Speakers at the programme said the government of Bangladesh needs to continue energetic diplomacy, particularly with regional partners, to resolve the Rohingya problem.
They urged the government to send high-profile diplomatic delegations to different countries to gather support for Rohingyas.
They said international community expressed their support unconditionally, bar some exceptions. This is the high time to resolve the issue forever.
They said platforms such as Bimstec and BCIM which aim to deepen regional and sub-regional trade, investment and transport connectivity should be used for arriving at a solution.
Presenting the study paper CPD Executive Director Dr Fahmida Khatun said an in-depth study to assess the short-, medium- and long-term implications for domestic and foreign resources should be conducted.
"All explicit and implicit costs related to the Rohingya crisis should be estimated. Preparation for post-Geneva follow-up meeting for resource mobilisation has to begin now," she said.
She said support for the Rohingyas from the donors such as the World Bank should in the form of grants only. No loan should be taken for Ronhingyas.
She also said World Bank's grant and loan components should be unpacked. Security measures in the Rohingya camps and adjacent areas, particularly in the southern part of the country, have to be strengthened.
The CPD feels that law-enforcing agencies have to be vigilant to stop illegal activities, drug trade, trafficking and terrorism.
It mentioned that the Rohingya crisis has given rise to multidimensional problems for Bangladesh.
While the Bangladesh government and international and non-government organisations are playing critical role in providing humanitarian support to the Rohingyas, major global players are yet to take a strong position in resolving the crisis, the CPD noted.
Professor at International Relations Department of Dhaka University Imtiaz Ahmed said the Rohingya should be called refugees, the persecution should be called genocide and they should be handled by the United Nations High Commissioner for Refugees (UNHCR), not the International Organisation for Migration (IOM)
He ruled out possibilities of breeding terrorism in Rohingya camps.
Distinguished Fellow of CPD Debapriya Bhattacharya said if Rohingyas stay for longer period, there would be irreversible budgetary implications in next fiscal.
"There would be economic, environmental and so many other implications for the country," he said.
Former Bangladesh Ambassador to Myanmar Major-Gen (retd) Anup Kumar Chakma and Executive Director of BRAC Dr Muhammad Musa also spoke at the dialogue with CPD Chairman Prof Rehman Sobhan in the chair.