As part of the CPD's flagship programme Independent Review of Bangladesh's Development (IRBD) the Budget Dialogue 2017 was organised at Lakeshore Hotel, Dhaka on 17 June 2017. A broad range of stakeholders shared their views and concerns on the upcoming National Budget for FY2017-18.
View  more news reports on this event
---
Published in The Daily Star on Sunday, 18 June 2017
People's interests ignored in tax proposals: CPD
Star Business Report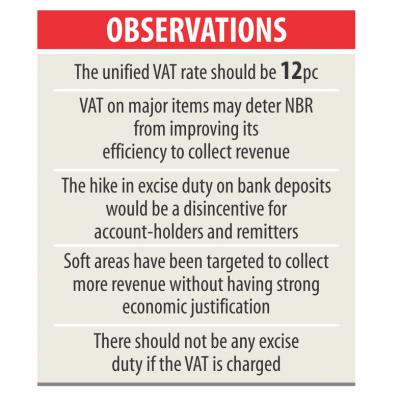 Consumers' interest has been sacrificed while framing the various VAT and supplementary duty proposals for the upcoming fiscal year, said the Centre for Policy Dialogue yesterday.
"Attempt to collect revenue from all low-hanging fruits is observed," said Fahmida Khatun, executive director of the CPD, while presenting an analysis on the proposed budget for 2017-18.
The event, which was held at the capital's Lakeshore Hotel, was attended by ministers, politicians, economists, businessmen, revenue officials and representatives of international development agencies.
The think-tank's observation comes at a time when there is a palpable concern that the implementation of the unified 15 percent VAT would fuel the cost of living for many.
VAT on major items such as electricity, spices and mustard, soap, pest and tooth-brush, branded garments, education at English medium schools, furniture, iron and steel products and restaurants is likely to lead to higher inflation once the new law becomes effective from July 1.
The CPD, instead, has proposed lowering the unified VAT rate to 12 percent.
Besides, it may be difficult for the National Board of Revenue to ensure proper implementation of the new law, Khatun said, adding that there is a need to ensure that all business entities come under the VAT net.
The hike in excise duty on bank deposits would be a disincentive for accountholders and remitters using the banking channel at a time when the interest rate on savings is already falling.
"Soft areas have been targeted to collect more revenue without having strong economic justification," she said, while calling for the excise duty on account balances to be scraped completely.
"The money is already taxed. Instead of collecting the excise duty, the tax net should be expanded."
The CPD raised questions about the sluggish trend of private investment and slowing job creation. Furthermore, the proposed taxes might fuel inflation and deal a blow to investment and economic growth.
The country does not have employment policy although it has growth and investment policies, said Rehman Sobhan, chairman of the CPD.
He also criticised the government move to earmark Tk 2,000 crore in the upcoming fiscal year's budget to bolster the state banks' capital base.
"One should examine the opportunity cost of recapitalisation by tallying the volume of resources injected into the state banks," he said, adding that loan default has become a part of business nowadays.
He also touched upon the delays in implementation of projects and cost hike. "Why are we having the problem of delayed implementation?"
The government would not take any measure that affects people, said Planning Minister AHM Mustafa Kamal.
"VAT should not be imposed in a way that makes people suffer.  It will not be wise to impose VAT on items that affect the general people."
He said investment by South Korea's electronics giant Samsung indicates that there is investment opportunities in Bangladesh. "Private investment has not declined; rather it has increased but slowly."
The VAT system exists in 169 countries and it is the best system, said MA Mannan, state minister for finance and planning. "It is the least painful for people."
On recapitalisation, he said the government has taken a "calculated risk". "The banks have passed through bad times," he added.
There is need for public sector banks, said Muhammad Abdur Razzaque, chairman of the parliamentary standing committee on finance. Bangladesh is losing opportunity to reap the benefit of its demographic dividend in the absence of proper investment, said Amir Khasru Mahmud Chowdhury, a BNP leader.
"Lots of investments have been made in mega projects instead of human resources."
The governments, in general, focus more on mega projects when they do not have legality in order to show people that development is taking place, he added.
The budget did not give attention to ensuring quality, reforms and developing implementation capacities of major ministries, said Debapriya Bhattacharya, distinguished fellow of the CPD.
A public investment-driven growth has been forecasted, Khatun said.
Private investment is forecasted to rise 0.2 percentage points to 23.2 percent of GDP in fiscal 2017-18 from 23 percent in fiscal 2016-17. An additional Tk 66,000 crore will be needed to achieve the goal, according to Khatun.
GDP growth and investment have had lower than expected impact in terms of job generation in recent years, she said. Only 4.7 lakh jobs are created a year, which is less than before, according to the CPD.
The government should not collect excise duty as it already collects VAT, said Akbar Ali Khan, a former adviser to a caretaker government. "If you collect VAT, there should not be any excise duty."
He said the continuation of scope to legalise undisclosed income is immoral.
Khan, a former chairman of the NBR, said when the 15 percent VAT was imposed with the introduction of the system in 1991 it was thought that the rate would reduce with the increase in revenue collection.
The parliamentary standing committee does not have any role in budget-making although lawmakers in countries such as India do take part in the process, he said, adding that there is a lack of transparency in budget-framing. The government has been recapitalising banks since 1991. "You give them money and they suffer loss."
Citing the government's increased borrowing from various countries, Khan said the country might run into trouble in repaying the loans in the coming years.
Focus must be given on implementation and reforms to encourage private investment, said Asif Ibrahim, a former president of the Dhaka Chamber of Commerce and Industry.Several discussants called for good governance and reforms to accelerate private investment to create jobs and improve the standard of living.
Some wanted the government to ensure transparency and accountability in budget-framing and improvement in implementation capacity of the ministries and agencies.
They also demanded assurance of proper use of taxpayers' money instead of misuse.
---
Published in The Financial Express on Sunday, 18 June 2017
BD may slip into 'debt crisis' shortly
Akbar Ali rings alarm bell, ministers allay fears
FE Report
Bangladesh may face a "debt crisis" within three to five years if necessary discipline is not brought in debt financing.
Such fear was aired by former finance adviser Dr Akbar Ali Khan at a post-budget discussion where he also described the unemployment situation in the country as "mega-depression".
"I am afraid that Bangladesh may face a foreign-exchange crisis in next three to five years," Dr Khan said at a post-budget dialogue organised by the Centre for Policy Dialogue in the capital on Saturday.
"The reason is that in recent years, we are signing a lot of agreements based on suppliers' credit, signing a lot of Public-Private Partnership agreements, buying a lot of big things from outside and also taking up a lot of foreign-funded projects," he added.
"However, I have not seen any calculation which says how much are our foreign-exchange earnings and how much foreign debt we can finance," Dr Khan pointed out.
Reflecting on the latest budget of the government, Dr Khan, the finance adviser of a past caretaker government, observed unusual emphasis on mega infrastructure projects while noting a lack of priority.
"The budget allocation shows a lot of emphasis on mega-infrastructures. However, the way these large infrastructure projects are being taken up, I have not seen any priority," Dr Khan told the meet.
"For example, the allocation for health sector and railway sector is the same in the upcoming budget. But it should be noted that while there can be alternatives to railways, there can be no alternatives to health," he added.
"I would like to remind everyone of the debt crisis of the 1980s, and I would not be astonished if we faced a similar debt crisis unless there is a restoration of discipline in this sector."
Dr Khan was also concerned about the decline in the flow of remittance and the fall in the growth of export in recent times.
"Remittance has started to fall and the crisis in Qatar should make us concerned," said the former finance adviser.
"At the same time, we are entering a new phase of globalisation under the new US Presidential regime and we may not experience continued expansion of our garment export in the near future," he further said about the causes of concern he aired.
Dr Khan also warned about the country's growing overdependence on imported fuels in recent years.
"Growingly, we are not able to supply gas from our own resources and we are becoming absolutely dependent on outside in this regard," he said, adding: "In the next three to five years time, depending on the global situation, that may also pose a serious problem."
Dr Khan also struck a note of concern over a gloomy employment situation in the country.
"Although official statistics say that our unemployment rate is 4.0 per cent,  if we look at the rate of underemployment or those who have jobs in very poor category, unemployment rate in Bangladesh is actually anywhere between 35 and 40 per cent," the economist said.
"Back in the 1930s, when unemployment rate crossed 20 per cent in the USA, they called it great depression.
In Bangladesh, if we have 35 per cent unemployment, we should call it mega-depression," he added.
Dr Khan, who was also Finance Secretary of the government, also called for privatisation of state-owned banks for accelerating private investment in the country.
"Instead of continuous recapitalisation, most of the government banks should have been privatised long ago," Khan said.
"But, because of a peculiar political configuration in Bangladesh, they are still continuing."
Speaking on the occasion, former Commerce Minister Amir Khasru Mahmud Chowdhury said the country is failing to reap its demographic dividend due to inadequate investment in health and education.
"We have already wasted 10 years of demographic-dividend period, which is getting reflected in our stagnant growth and private investment," Chowdhury said.
"This is because we have not prioritised health and education as much as we did the mega infrastructure projects."
Citing various statistics, he said while the per-kilometre cost of building a four-lane highway in Bangladesh is Tk 540 million, it is Tk 280 million in Europe and Tk 120 million in China.
"Therefore, such overemphasis on mega infrastructure projects is not only a deviation from priority but also a cause of rampant corruption," the former Commerce Minister told the meet.
Focusing on the real-income scenario, Chowdhury said when the issues of inflation are taken into account, the real income has actually dropped 8.0 per cent in last decade.
Responding to such observations, Planning Minister AHM Mustafa Kamal furnished statistics to claim that the country has achieved tremendous progress in various economic indicators in recent years.
"While the amount of budget utilisation was Tk 2.38 trillion back in 2015-16, it had risen to Tk 3.17 trillion a year later which showed that not only budget size is increasing but also is increasing budget utilisation," Mr Kamal said.
"At the same time, the size of the country's GDP has tripled from US$ 71 billion in 2005/06 to US$ 249 billion now," he said, adding: "The per-capita income has also increased four times during the same time from US$ 543 to more than US$ 1600."
He also noted that Bangladesh's debt-to-GDP ratio is still higher than countries like Malaysia and Vietnam.
He also blamed the high price of land, among other things, as the major cause for the higher cost of mega-projects in Bangladesh.
State Minister for Finance M A Mannan in his speech justified the undertaking of mega-projects, saying that these are essential for ensuring better connectivity in all parts of the country.
Eminent economist Prof Dr. Rehman Sobhan, Distinguished Fellow of CPD Dr Debapriya Bhattacharya and Executive Director Dr Fahmida Khatun also spoke on the occasion.
---
Published in Daily Sun on Sunday, 18 June 2017
Govt urged to scrap VAT provision for print media
Weak institutional capacity may impede budget execution, experts say at CPD dialogue
Speakers at a discussion demanded scrapping of provision of the proposed budget that requires print media outlets to pay 15 percent VAT on advertisements within 45 days of submitting bills to advertisers.
They also called for halting another decision of the government to impose increased excise duty on bank deposits exceeding Tk 1 lakh.
They were speaking at a dialogue the proposed budget organised by Centre for Policy Dialogue (CPD) at Lakeshore Hotel in the capital on Saturday.
If the 15 percent VAT on print media is not withdrawn or the provision not cancelled, the print media industry will face a deep crisis, they added.
Speaking on the occasion, Gonoshasthaya Kendra founder Dr Zafrullah Chowdhury criticised the new VAT regime.
He said the new VAT regime will be detrimental to print media, free flow of information and perfunctory democracy.
Experts said the main challenge in executing the proposed budget for 2017-18 fiscal will not be its size, but the lack of budget-supporting environment both at institutional and policy level.
"If the budget can not run burdened with a large deficit, the main reason will be not its size, but the absence of necessary institutions and policies required for popping up the budget," said Dr Debapriya Bhattacharya, distinguished fellow of Centre for Policy Dialogue (CPD).Planning Minister AHM Mustafa Kamal attended the dialogue as the chief guest.
Dr Debapriya slammed some key ministries which he thinks lack in capacity in terms of leadership, budget formulation and its execution.
"Some leading ministries don't have the capacity of leadership and the strength of working in a creative way. As a result, the budget's design, management and implementation become tough," he said.
In particular, he said the finance ministry lacks technical capacity, data availability, and necessary coordination with its affiliated agencies like the central bank, Securities and Exchange Commission (SEC) and the National Board of Revenue (NBR).
For the shortcomings in leadership capacity, the finance ministry failed to play a proactive role in establishing coordination among these key institutions, for which some important reforms could not be done, Dr Debapriya noted.
Former adviser to a caretaker government Dr Akbar Ali Khan alleged that the budget does not have proper participation even from the lawmakers or parliamentary standing committees.
He also raised the issue of the waning banking sector. He said irregularities are still dominating the public sector banks.
The dialogue discussions mainly focus on two key mid-term problems the country's economy is now facing — waning role of private sector in growth momentum and a fall in job creation.
Apart from the key ministries' lack of leadership as well as capacity, more public investment focus on quantity instead of quality spending and less focus on policy reforms were blamed for the stagnant private investment and low job creation.
"Bangladesh is trying to fly the aircraft on one engine i.e. public investment, the second engine of private investment is not working as we've expected," Dr Debapriya commented.
In absence of a strong contribution to national growth from the private sector, the public investment-led growth might ultimately lead to a 'jobless growth'," he said.
The first infrastructural problem is that private investment could not be stirred to the expected level in the mid-term after hectic efforts.
Public investment, on the other hand, is increasingly focusing on quantity, not on the quality of project and investment, he also alleged.
"We've been totally obsessed with the numbers, quantity; not necessarily with the quality and the value for money," commented Dr Debapriya, while summing up the budget discussions.
"We did not think about or create any structure on how to maximise output from the investment being made with hard-earned money where the tax-GDP ratio is very poor," he also said.
With the large ADP, the government gave more focus on big projects, but ADP's priorities were not properly identified, said Dr Akbar Ali Khan, calling for more allocation on health and education sectors.
He also warned that excessive dependence on Chinese loans may put extra loan repayment burden of the budget in future.
He also observed that the government should scrap excise duty as VAT is being put in place.
Former commerce minister and a BNP leader Amir Khasru Mahmud Chowdhury warned that Bangladesh might miss the opportunity of capitalising demographic dividend as it is putting less focus on human resource development.
He also stressed on political stability for attracting private investment.
In reply, Chairman of Parliamentary Standing Committee on Ministry of Finance Dr Abdur Razzaq said in its five-year term, the four-party alliance government could only manage to raise ADP allocation from Tk 18,000 crore to Tk 21,000 crore.
But the Awami League-led grand alliance government has been able to raise it by five to six times starting from Tk 23,000 crore.
Admitting that low private investment is the main problem of the country now, he said the investment problem will go in the next two or three years as the government is now working on improving infrastructure.
Speaking on the occasion, AHM Mustafa Kamal said project cost is high in Bangladesh because of higher land price, adding that project delay also comes from land related litigations.
"You can not compare our project cost with those of Europe and China as the land price is very high in our country," Kamal said.
About VAT, he said it is a good system but it should be implemented in such a way that people don't feel the pinch.
He said the parliament is now discussing the issues of VAT and excise duty and the finally the issues might be settled there.
"I think that we will get a good budget at the end. And all the distortions of the budget will be removed when it will be passed in the parliament," he pointed out.
State Minister for Finance and Planning MA Mannan, CPD executive director Dr Fahmida Khatun, economist Prof Mustafizur Rahman among others, spoke at the dialogue moderated by CPD's trustee board chairman Dr Rehman Sobhan.