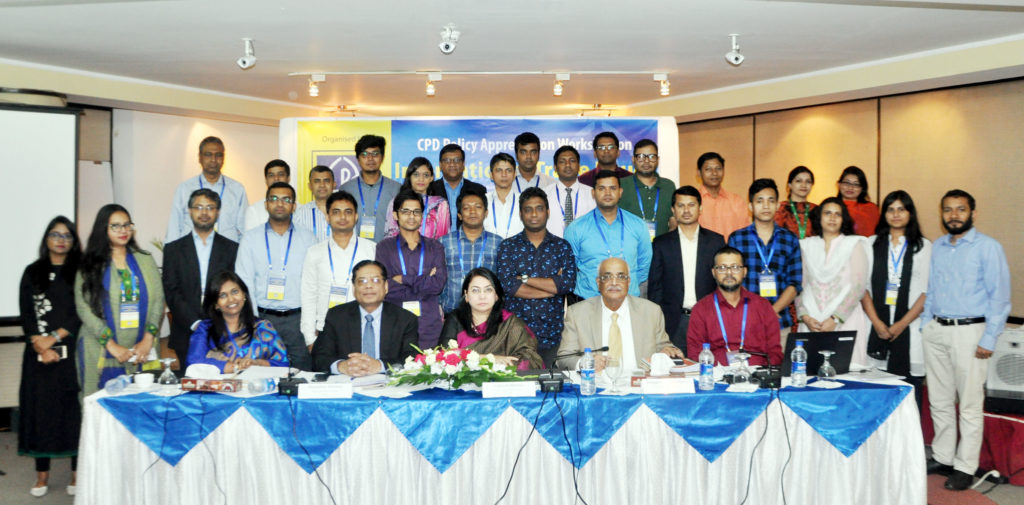 There is a need for more informed understanding about Bangladesh's key interests in the context of the upcoming WTO Ministerial Conference (WTO MC11). Bangladesh should undertake adequate preparation and be actively involved in terms of both agenda building and negotiations in the context of MC11. Bangladesh should focus on strategic coalition building and be actively engaged to make trade work for her economic development.
These messages were shared at the CPD Policy Appreciation Workshop on International Trade Issues and Bangladesh Interests on Tuesday 29 August 2017 at BRAC Centre Inn Auditorium, Dhaka.
Twenty six professionals who included government officials, development practitioners, academicians, researchers and journalists took part in the workshop. The workshop included lecture sessions, delivered by CPD professionals and group discussions by participants.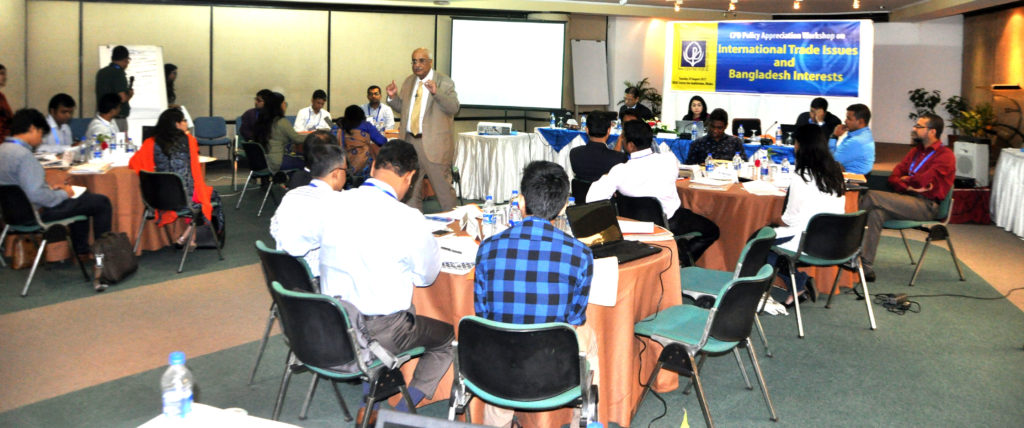 Sharing his interpretation of the emerging global scenario and what that means for Bangladesh, Dr Debapriya Bhattacharya, Distinguished Fellow, CPD, observed that in safeguarding the defensive and securing the offensive interests in view of both in-built and new agendas in the WTO. He put emphasis on the need for proactive engagement in the ongoing discussions backed by adequate homework.
In his deliberation, Professor Mustafizur Rahman, Distinguished Fellow, CPD dealt with key issues of interests of Bangladesh in view of the upcoming MC11. He observed that Bangladesh should endeavour to make best use of the window of opportunity as an LDC in the WTO and at the same time build its supply side capacities to integrate into the global economy from a position of competitive strength. He argued in support of concrete decisions at the MC11 towards operationalisation of WTO decisions on duty-free-quota-free market access and services waiver for LDCs.
CPD Executive Director Dr Fahmida Khatun stressed the need for strengthening supply-side capacity by deepening regional cooperation to take advantage of the various preferential treatment accorded to Bangladesh as an LDC in the WTO.
The workshop was ended with a certificate awarding ceremony.