Published in Dhaka Tribune on Wednesday, 13 July 2016
Exports cross $34bn in FY16
Ibrahim Hossain Ovi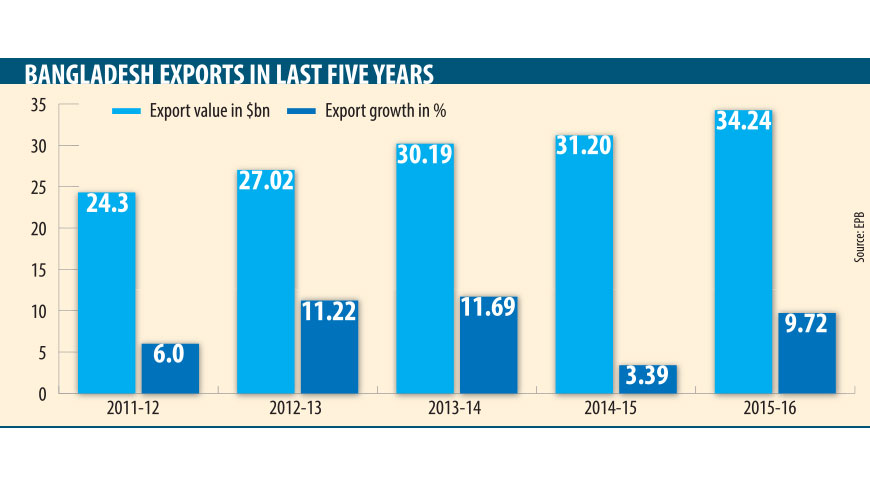 Bangladesh earned over $34bn from exports in the fiscal year 2015-16 which just ended, registering around 10% growth from the previous year.
The figure also exceeded export target set for the year by $743m, according to provisional data prepared by the Export Promotion Bureau.
Exporters and analysts attributed the robust growth to political calmness during the year, improvement of workers' safety standards in factories and policy support by government.
The data showed the country earned a total of $34.24bn in last fiscal year, a figure that is 9.72% higher than $31.20bn of the previous year. The target was set at $33.5bn for FY2015-16.
According to monthly data, the export sector fetched $3.58bn in June that marked the end of the financial year. The growth was around 17% from June 2015.
The earning in June 2016 is also 9.11% higher than the target of $3.28bn set for the month.
Officials said the government may target to earn $37bn from exports in the current fiscal year.
"Over the last one and a half years there has been political stability in the country while the garment sector struggled to improve safety standards for workers after the Rana Plaza catastrophe," Abdus Salam Murshedy, president of Exporters Association of Bangladesh, told the Dhaka Tribune.
He said all these had helped the export sector see healthy growth in earnings.
"Readymade garment sector, which constitutes more than 80% of the country's total export, enjoyed a double-digit growth rate, helping the country remain on track," EAB president said.
According to him, the government should ensure gas and electricity supplies to new investors and to those relocating factories from Dhaka to industrial zones as part of being compliant.
"Export growth will be 20% if energy supply can be ensured to the factories," he said. Abdus Salam Murshedy, however, said although the apparel export is doing well, other sectors are failing to even meet the targets.
"The sectors that consistently fail to meet export targets need special attention to improve their performance."
He stressed the need to increase the capacity of sea ports along with building a deep sea port.
Khondaker Golam Moazzem, additional research director of Centre for Policy Dialogue, said the government had set a moderate export target for the last fiscal year considering slow growth and global economic situation in previous fiscal year.

He also said reforms in factories' safety standards acted as positive factors in better export performance as Bangladesh was able to restore buyers' confidence.

But he pointed out that the country needs to achieve about 13% export growth to reach $50bn export target by 2021.

Golam Moazzem said new markets should be explored for exports to avoid post-Brexit impact on the UK market as there could be a period of uncertainty during the transition.

"Non-traditional markets can be taken into consideration to enlarge export volume," he added.